Contact
On this page we have listed the contacts for our researchers, research directors, research officer, and director of postgraduate studies.
Petersson, Sonya
Senior lecturer, associate professor, research officer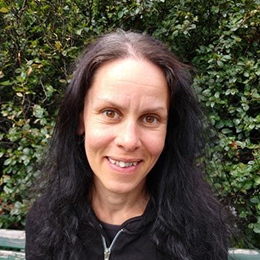 Visiting address
B 349
Frescativägen 22B-26
Directors of Postgraduate studies
If you need more information about the postgraduate studies at the Department of Culture and Aesthetics, please contact the director of postgraduate studies for the subject that you are interested in.
The communications officer at the department is both press contact and web manager.
Joanna Bong Lindström

Kommunikatör
Researchers in Art History
Andersson, Elin

PhD student

Askelöf, Adéle

PhD student

Beltrami, Costanza

Senior lecturer

Bortolozzi, Anna

Senior lecturer, associate professor

Callahan, Sara

Researcher

Fröberg, Jessica

PhD student

Gillgren, Peter

Professor

Granqvist, Lotta

PhD student

Göransson Håkansson, Elin

PhD student

Hedlin Hayden, Malin

Professor

Holdar, Magdalena

Senior lecturer, associate professor

Kollnitz, Andrea

Senior lecturer, associate professor

Krohn Andersson, Fredrik

Senior lecturer, associate professor

Laine, Merit

Senior lecturer

Landstedt, Christopher

Guest lecturer

McGinley, Robin

Senior lecturer

Miroff, Katia

PhD student

Nordström, Charlotta

Senior lecturer

Norlander Eliasson, Sabrina

Professor

Pech, Christina

Senior lecturer

Petersson, Sonya

Senior lecturer, associate professor, research officer

Sjöholm Skrubbe, Jessica

Professor

Snickare, Mårten

Professor

Tetteris, Karin

PhD student

Wadstein MacLeod, Katarina

Professor
Researchers in Cultural Heritage Studies
Krohn Andersson, Fredrik

Senior lecturer, associate professor
Researchers in History of Ideas
Barrdunge, Mats

PhD student

Berg, Annika

Senior lecturer, associate professor

Bergwik, Staffan

Professor

Cederbjörk, Elisabeth

PhD student

Dirke, Karin Elisabet

Professor

Drakman, Annelie

Researcher

Enquist Källgren, Karolina

Senior lecturer, associate professor

Fareld, Victoria

Professor

Friis Jakobsen, Frederik-Emil

PhD student

Holmberg, Linn

Researcher

Jönsson, Johan

PhD student

Kjellgren, Adam

PhD student

Mansén, Elisabeth

Professor emerita

Ripenberg, Linnea

PhD student

Sanner, Inga

Professor emerita

Sellberg, Erland

Professor emeritus

Ståhl, Isabelle

PhD student

Wiklund, Martin

Senior lecturer, associate professor
Researchers in Literature
Albrektson, Anna

Professor

Andersson, Maria

Senior lecturer, associate professor

Berglindh, Ulla

PhD student

Cullhed, Anders

Professor emeritus

Eskandari Varzali, Rayanne

PhD student

Götselius, Thomas

Professor

Hackman, Boel

Senior lecturer, associate professor

Hallberg, Kristin

PhD student

Haux, Caroline

Senior lecturer

Hinz Cornelli, Hannah

PhD student, study councellor, Erasmus coordinator

Holmgaard, Jan

Senior lecturer

Härnsten, Hedvig

PhD student

Iaffa Nylén, Sofia

PhD student

Jörngården, Anna

Senior lecturer, associate professor

Klingborg, Johan

PhD student

Lundberg, Johan

Senior lecturer, associate professor

Lysell, Roland

Professor emeritus

Mannil, Anna Brita Ragnarsd:R

PhD student

Mattsson, Per-Olof

Senior lecturer, associate professor

Monus, Vera Maria

PhD student

Nilsson Warkander, Sofia

PhD student

Olsson, Ulf

Professor emeritus

Persson, Anna

PhD student

Rossholm, Göran

Professor emeritus

Schmidt, Torbjörn Måtte

PhD student

Strindmar Norström, Emma

PhD student

Thörnell, Anna

PhD student

Trejling, Maria

PhD student

Trygger, Håkan

PhD student

Wahlberg, Andreas

PhD student

Wahlström, Maria

Director of studies

Westin, Boel

Professor emerita

Wiktorsson, Per Anders

Senior lecturer

Wistisen, Lydia

Senior lecturer, associate professor

Öhrn, Magnus

Senior lecturer, associate professor
Researchers in Musicology
Ander, Ove

Senior lecturer, associate professor

Bardoux Lovén, Cécile

Senior lecturer

Burlin, Toivo

Senior lecturer, associate professor

Derkert-Rosenberg, Jacob

Senior lecturer

Ethnersson Pontara, Johanna

Senior lecturer, associate professor

Tillman, Joakim

Professor

Vickers, Nicole

PhD student
Researchers in Theatre and Performance studies
Brinch, Rebecka

Director of studies, researcher

Dotlacilová, Petra

Researcher

Hammergren, Lena

Professor emerita

Heed, Sven Åke

Professor emeritus

Helander, Karin Maria

Professor emerita

Hoogland, Rikard

Senior lecturer, associate professor

Johansson, Birgitta

PhD student

Kuylenstierna Harrysson, Iris Ellen Charlotte Stigsdotter

PhD student

Lindgren, Ulrika

PhD student

Löfblad, Josefine

PhD student

Pursiainen Rosenberg, Tiina

Professor

Redbark Wallander, Ingrid

PhD student

Sauter, Willmar

Professor emeritus

Skjoldager-Nielsen, Daria

PhD student

Svens, Christina

Senior lecturer
Last updated: August 30, 2023
Source: Department of Culture and Aesthetics