Organisation
Stockholm Business School's work is led by a head of department, who is supported by a deputy head of department, an administrative manager and the school board. The board is a link between the department and the Faculty of Social Sciences. Subordinate to the head of department are five sections, four sections for research and teaching and one section for administration. The department also has Executive Education.
Head of Department: Maria Frostling
Deputy Head of Department: Christian Maravelias
Administrative Manager: Vladimir Vešović
Advisory and strategic management team
The advisory and strategic management group (SLG) includes the Head of Department, the Deputy Head of Department, all Heads of Sections, all Professor Representatives, the Administrative Manager and the Head of Executive Education.
Advisory Board
The Advisory Board is a platform for expanded and in-depth cooperation between institutions, business and the public sector. The Advisory Board acts as an innovator to strengthen the department's future competitiveness.
The Advisory Board has 14 members from the business industry.
The School Board and committees
The School Board (IS) is overall responsible for the scope and quality of the department's assignments: research, education and degrees, collaboration. The board establishes the department's strategy, business plan, budget and guidelines for the organization of the work. The members of the department board are elected for a three-year period. The head of department and deputy head of department are standing members. Student representatives are replaced every year after association elections.
| | |
| --- | --- |
| Permanent members | Deputy members |
| Maria Frostling, Head | Saba Samadilashkariani |
| Christian Maravelias, Deputy Head | Jarkko Peltomäki |
| Bino Catasús | Birgitta Schwartz |
| Björn Hagströmer | Mikael Holmgren |
| Ai Jun Hou | Charlotte Lindén Ahmad |
| Jessica Lindberg | |
| Sara Jonsson | |
| Mia Hinnerich | |
| Lars Nordén | |
| Fredrik Eng Larsson | |
| Andrea Lucarelli | |
| Linda Kjellman | |
| Helene Olofsson | |
| Amelia Olsson | |
| Ordförande i Föreningen Ekonomerna | |
| Viceordförande i Föreningen Ekonomerna | |
The Education Committee
The Education Committee (UN) prepares syllabus for courses and programs at undergraduate and advanced level before the head of department's decision on approving revisions. All educational issues that are departmental, eg course and program planning, investigations from SU on educational issues, discipline and / or exemption procedures, etc are also handled.
The PhD Education Committe
The PhD Education Committe (FUN) handles issues concerning the doctoral student environment, doctoral courses, dissertations and governing documents for postgraduate education.
The Professor Representatives Committe
The Professor Representatives Committe drives the development of the reseach at the department. The committe includes professor representatives for each section.
Sections and Executive Education
The department's research and teaching is organized into four sections:
Accounting section
Head of Section: Susanne Weinberg
Professor Representative: Bino Catasus
Finance section
Head of Section: Ai Jun Hou
Professor Representative: Lars Nordén
Management section
Head of Section: Rickard Grassman
Professor Representative: Karin Berglund
Marketing section
Head of Section: Fredrik Nordin
Professor Representative: Jacob Östberg
Section for Administration
The section works with student service, teaching planning, finance, HR issues and communication.
Head of Administration: Vladimir Vešović
Executive Education
Executive Education is responsible for the Executive MBA programme, which is a scientifically based and degree-oriented management programme.
Manager: Ian Richardson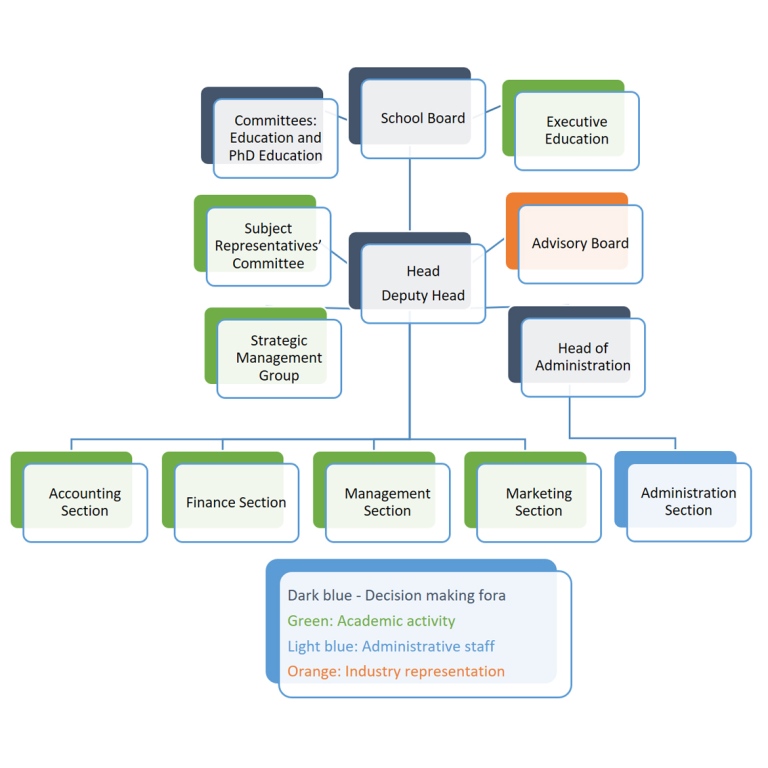 Last updated: March 10, 2021
Source: SBS