Find us
The Department of Mathematics has moved, during the summer 2022, to new premises in house 1 in Albano. Albano is in the National City Park between the commuter railway Roslagsbanan and the road Roslagsvägen, just north of Roslagstull. Below you can see how to get to us and how to find your way around.
During the summer 2022, the department has moved to house 1 in the the new campus Albano. Most of our new offices are on floor 3, and some are on floor 2. You need an access card to enter the office spaces. On floor 3 you can also find our seminar room (the Cramér room), the mathematical library and our student office and study advisors.
Read more about Albano – a unique environment for education and research
Find our department
Albano can be found just south of the Frescati campus, at walking distance from either of the stations Universitetet or Tekniska högskolan (the exit to the north is closest) on the Metro red line. The distance is about the same from both stations. You can also get here by bicycle, bus or car.
Map using openstreetmap.org, which shows the buildings in Albano better
Stockholm has an extensive public transportation system. You can use Stockholm Transportation's journey planner to find out how to get to the Department of Mathematics. The nearest bus stop is called Albano. The Metro stations Universitetet and Tekniska högskolan are just over 1 kilometer away.
The most frequent buses that go to Albano are bus 50 (from, for example, Odenplan) or bus 670 (from Tekniska högskolan). You can also take these in the other direction from Universitetet. Another option is bus 61 to Ruddammen, which is above AlbaNova. There are a few other buses to Albano depending on where you are commuting from, but please note that some buses from Tekniska högskolan are express buses and you can't get off these at Albano going out from town, so ask the bus driver when you get on if you are unsure.
The closest train station is Stockholm Central. From there you can get to Albano by public transport, see above.
Find your way around
Most of our offices are on floor 3, and some on floor 2, of house 1 in Albano. Only employees have access to the office area, so if you want to visit someone in particular you will need to book a meeting and be let in.
The student office and study advisors have drop-in times some days of the week, on floor 3 of house 1 (the door is close to the lifts and the stairs). Details about this can be found on the page with contact details for questions regarding education.
On floor 3 you can also find our seminar room (the Cramér room) and the mathematical library (see below). Here, too, visitors need to be let in, though the door to the seminar room may be unlocked during seminars.
Library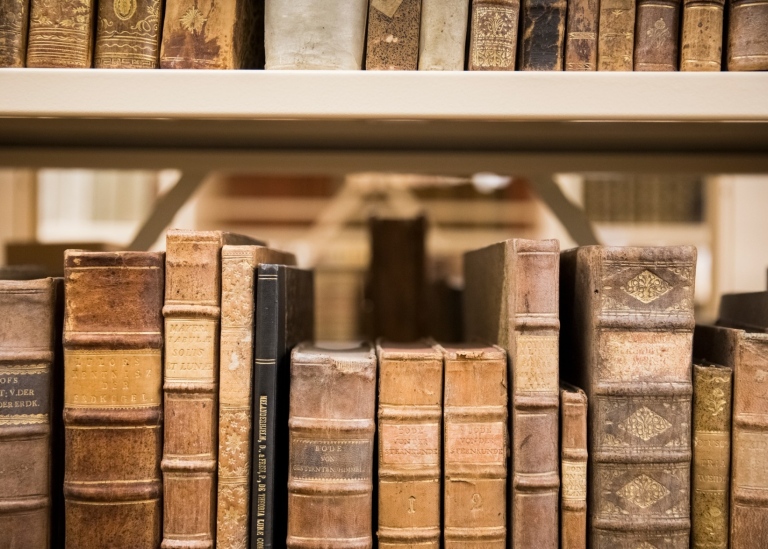 The library at the Department of Mathematics is found on floor 3, house 1, Albano. It is connected to the department's office area but also has an external door close to the connecting door between house 1 and 2.
For contact details and opening hours for the library, please see math.su.se/library.
Lunch places in the area
Here are some places in the area where you can buy lunch. (The linked websites only seem to be available in Swedish.)
Restaurant Kräftan (on the other side of Roslagsvägen, down by Brunnsviken)
Proviant Albano (restaurant, Bar and Café, House 2, floor 4)
Pressbyrån (house 4), Albanovägen 12
Café (house 2, floor 2, below the Albano stairs)
PBX store (house 4) – a new concept with kiosk and food that has complete traceability and shows environmental impact of the products.
You can also find restaurants and cafés on Frescati campus, and in the Bergius Botanic Garden.
Spaces for students in Albano
Besides offices and lecture rooms, Albano (houses 1, 2 and 4) also has plenty of study spaces for students, including group rooms that you can book via https://cloud.timeedit.net/su/web/stud2/.
There are changing rooms with showers for students on floors 2 and 3 in house 1. (Changing rooms for employees are on floor 1.)
You can also find student kitchens (with microwaves and taps), coffee machines and recycling stations in various places in Albano.
Last updated: March 1, 2023
Source: Department of Mathematics