During your studies
On this page you can find important and useful information during your studies.
Here we have collected information about exams, our code of honour, student representation, IT resources, our video archive and what to do if you wish to discontinue your studies, take a break or re-register for a course you have been registered for before.
Are you a new student at our department? See also this page.
Schedules, course webpages and course literature
Exam information
You can see on the course web for your course how the examination works, but written exams are the most common. Here is more information about that.
Exam schedule at the Department of Mathematics
How to find your place for the exam, find the exam rooms, etc.
In order to be allowed to participate in a written examination you have to have signed up for the exam via Ladok. You cannot show up for the exam without having signed up, and we do not accept any late applications!
If you cannot sign up, you are probably not currently registered for the course. If you have been registered on a previous semester, contact our Student Affairs Office for re-registration.
If it turns out that you cannot attend, please unregister for the exam in Ladok.
When and how can I sign up?
You sign up via Ladok. Usually you can sign up starting a month before the exam, and the deadline to sign up is 10 days before the exam (at 23:59).
Exception: If you are taking a course at KTH via Stockholm University you must sign up for the exam via KTH - see below.
Sign up for exams at KTH
If you follow a course at KTH given by Stockholm University, you register for examinations by following the links below.
Schedule for exams and registration at KTH
Courses in mathematics or scientific computing
Courses in computer science
Signing up for an exam with support
Exams off campus
In some cases it may be possible to sit exams off campus
How to get your exam back
Once your grade has shown up in Ladok, you can send a request to get your exam back, and we will send it to you by e-mail. Please note that it can take up to a week after the exams has been handed over by the examiner before it's sent out to you. You can also fill in the other form to say that you want to collect the physical version of your exam (we need to copy it first so we need some time to prepate).
Request your exam as a PDF by filling in this form
Fill in this form if you want to collect your exam in physical form
Examiners
Here you can find the examiners for the respective departments during the academic year 2022/2023.

Examinatorer 22-23, matematik (pdf) (81 Kb)


Examinatorer 22-23, matematisk statistik (pdf) (72 Kb)


Examinatorer 22-23, beräkningsmatematik (pdf) (60 Kb)
Your rights and responsibilities as a student
As a student at Stockholm University you have rights and responsibilities that come in part from laws and regulations and in part from local precepts.
For example, you have a right to influence your education, and it is your responsibility to follow the university's rules.
Read about your rights and responsibilities as a student
Ethical Guidelines and Code of Honour
Mathematical student council (MSR)
Students at the Department of Mathematics at Stockholm University are represented by the mathematical student council (Matematiska studentrådet, MSR).
You can reach MSR at msr@math.su.se.
Stockholm University Student Union (SUS)
Stockholm University Student Union (SUS) is Sweden's largest student union and its main purpose is to monitor and participate in the development of education and the conditions for studies at Stockholm University.
More about the student council
Course evaluations and course reports
Course evaluations are an important way for us to find out what you think about courses you have taken. We send them out soon after each course has finished to those who have taken the course.
Course reports are filled in by the teacher.
Resources for students
Here you can find a guide to studying at the university, information about IT support, and some tips on how to use LaTeX, as well as our archive of video lectures.
Guide to studying effectively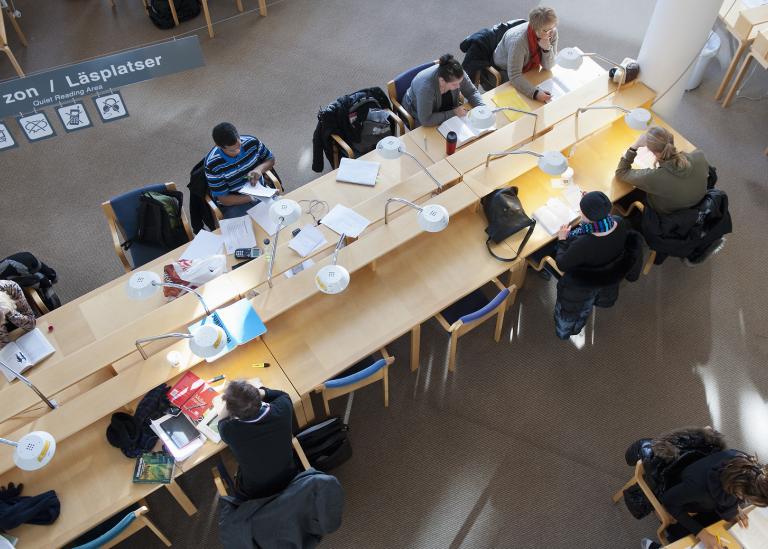 Photo: Eva Dalin
Do you understand what is expected of you, are you using your time effectively, and are you keeping on top of your reading and assignments? The Academic Writing Service have put together a guide to help you during your studies at Stockholm University.
The IT department is responsible for IT services and support to students at Stockholm University. They have information about computer rooms in Frescati, printers and copiers, software provided by the university, wi-fi, and more.
LaTeX
The Department of Mathematics encourages you as a student to familiarise yourself with LaTeX, a typesetting system with great support for mathematical notation. If you have not used LaTeX before, Overleaf might be a good place to start.
And here is a longer introduction to Latex:
The Department of Mathematics has a number of recorded lectures, which are available through OVI or Youtube. Many of the videos are in Swedish, but there are some in English as well, mainly on our Youtube channel.
Online Video Interface, OVI
Youtube channel, Department of Mathematics
Relevant video lectures for specific courses are also linked from the course webpages.
Discontinuing, pausing and re-registering
Here you can find information about discontinuing a course, taking a break in your studies and re-registering, which is required when you return to your studies after a break or if you need to re-take a course.
Discontinuing a course or programme
You can discontinue a course in Ladok. If less than three weeks have passed since the course began, your registration on the course is removed so that you can apply for it again at a later time.
You can now also discontinue a programme in Ladok. If you do so, any unfinished courses within the programme will also be discontinued.
Taking a break in your studies
If there are special circumstances, you can be granted a break from your studies with a guarantee to return to your studies later. This is only possible on a programme, not for individual courses. Contact the study advisors for more information on this.
Even if you take a break without having applied for, or without having been granted, a guarantee to return to your studies afterwards, it may still be possible to return to your studies. If so, you need to apply for re-registration.
If you have begun but not finished a course, and wish to re-take it at a later time, you need to apply for re-registration. In particular, this is needed so that you can sign up for exams that belong to a later course session.
You cannot be re-registered if you were admitted to a course but never registered for it, or if you discontinued the course in the first three weeks. Sometimes, the course may also have changed enough that it has a new course code. In these cases you must instead reapply for the course through Universityadmissions.se.
Only apply for re-registration if you really intend to take the course this session. Note that you are not guaranteed re-registration, this depends on whether there are places left on the course.
Digital forms for re-registration autumn 2023
The forms will be published 1 June, and we will start processing applications in August, in week 33.
Form for re-registration on courses in mathematics and mathematical statistics autumn 2023
Form for re-registration on courses in computer science and computational mathematics autumn 2023
If you want to be re-registered on courses in the summer (or the spring, to be able to sign up for exams), you can contact us by email, see below.
Contact us by email if the digital forms have closed.
Once the forms have closed you can still apply for re-registration by email, svl-datalogi@math.su.se if the course is in computer science or scientific computing and to studentexpedition@math.su.se for other courses. In such cases, you should first check how much of the course has already passed and if you have missed any deadlines for hand-in exercises or similar. It may not always be possible to complete the whole course if you start late.
Last updated: September 18, 2023
Source: Department of Mathematics