New student
Welcome to the Department of Meteorology (MISU) as a new student! We hope you will enjoy your studies here.
All accepted students receive a welcome letter via email with important information for their studies.
This page has information specifically for new students at MISU. For more general information about being a new student at Stockholm University, use this link:
su.se/admittedstudents - A smooth start for new students at Stockholm University
Admission
If you have received notification that you have been accepted to a course or program, then your must reply to the first admission notification that you receive in the beginning/middle of July or December (for the autumn or spring semester, respectively). This is to assure that you keep your place as an accepted student or on the waiting list. Instructions on how to do that is provided in your acceptance notification and at universityadmissions.se. After the first selection there is a second selection based on your requests on the previous reply. You have to be registered at the department for the course that you are taking.
If you are accepted to a course, you can register for it through your University account. It is your responsibility to make sure that you ar registered on the correct course and registration is a condition for receiving student loans.
If you have problems registering, please contact our study counselor.
Contact information is listed at the bottom of this page.
If you do not meet the eligibility requirements of the program or course you applied to when the assessment is made, but it is likely that you will do it at the beginning of the course, you will usually get a conditional acceptance.
If you have been accepted with conditions then you must contact the study counselor before you can start the education. Please do this as soon as possible and well ahead of the start of the course.
Contact information is listed at the bottom of this page.
Have you received information that you are on a waiting list for a course? You will always be contacted by us via email if you are accepted. Generally, we do not accept anyone from the waiting list beyond 1 week into the semester.
When the last day to apply has passed, it is still possible to submit a late application to courses and programmes. You can submit a late application for most of our courses and programmes through universityadmissions.se. Most of our programmes and courses are open for late applications until about two weeks prior to the respective course start.
Roll Call
At MISU, the course starts with a mandatory roll call. You will get more detailed information about the roll call via email.
If you plan to start the education but for some reason cannot participate at the roll call, please contact our study counselor. Otherwise you risk losing your spot in the course.
Contact information for the study counselor is listed at the bottom of this page.
Studying with a disability
As a student with a documented disability you can apply for educational support. Read more about this at SU's central website.
You can find important information concerning application dates, semester dates et cetera at the Stockholm University website Study in Stockholm.
MISU has its own lecture rooms and all of them are in the same corridor as the rest of the department. You will get your own entry card for access to the department.
MISU is located on 6th floor, building C in the Arrhenius Laboratory.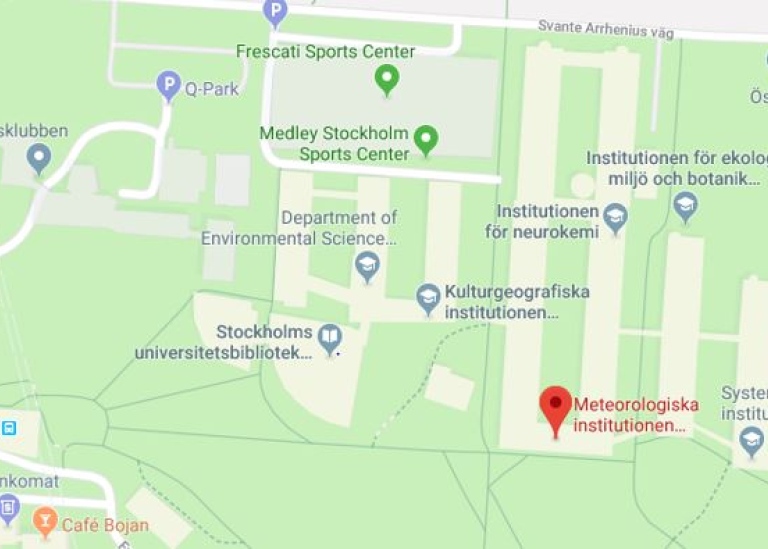 Map over northern Frescati campus, Stockholm University. From Google Maps.
Last updated: January 5, 2023
Source: MISU