Courses and programmes
Geological Science constitutes a major academic discipline. It provides crucial information to society about mineral resources and energy, ground-water availability, the evolution of the climate and about other natural hazards including tsunamis, landslides, volcanic eruptions and earthquakes.
During the spring semester 2022, the teaching will be on campus as much as possible, but we will of course follow the FHM's and SU's guidelines.
Visit your course page for more detailed information about your course.
Bachelor degree programmes on-site
Earth Science programme
Earth science is the science of planet earth. Knowledge of mountains , soil, landforms, groundwater and climate is of great importance for a sustainable society, in terms of natural resources, land use and environmental problems. The program is a collaboration with the Department of Physical Geography.
Link to the programme (only in Swedish)
Marine geoscience programme
Are you passionate about the sea? Then the Marine Geoscience program is something for you. The Earth is called "the blue planet" because about 70% of the earth's surface is covered by oceans. The marine sector has expanded enormously in Sweden and internationally, driven by the "blue economy" which sees the oceans as a resource. The sustainable use of ocean resources requires knowledge about the oceans and sea floors.
Bachelor degree programme by distance
Programme in Earth Science, Distance Learning
Earth Science Program, internet based distance learning study, is organised by the Department of Geological Sciences and the Department of Physical Geography. The course structure of this program differs from the on-site program in Earth Science.
Link to the programme
Note: Our IT/Online courses are not available for exchange students.
Master's degree programme in Geological Sciences
In the M.Sc. programme in Geological Sciences you will study the chemical, physical, and biological processes that shape our planet. You will learn about the effects of plate tectonics on mountain building, volcanism, ore formation, and earthquakes. You will study the processes that control Earth's climate system and the geological record of Earth's climate evolution, as well as the biogeochemically controlled distribution of elements and molecules on Earth and their exchange between the ocean, atmosphere, and geosphere.
Master's degree programme in Climate Science
NOTE! This programme is under reconstruction.
The Master's programme in Climate Science is by its nature cross-disciplinary. It emphasizes the breadth of climate science, providing an overview of climate and environmental change on a range of spatial and temporal scales
The programmet is organised by the Bolin Centre for Climate Research.
PhD studies | Doctorate degree
The Department of Geological Sciences has three research education programs: Geochemistry, Geology and Marine Geology. This education ends with a degree as Licentiate of Philosophy and/or Doctor of Philosophy in one of the three programs.
Read more about our PhD studies:
Professors in charge of the programs
Geochemistry, Magnus Mörth | +46 (0)8 16 47 31, magnus.morth@geo.su.se
Geology, Alasdair Skelton | +46 (0)8 16 47 50, alasdair.skelton@geo.su.se
Marine Geology, Martin Jakobsson | +46 (0)8 16 47 19, martin.jakobsson@geo.su.se
Admission to the PhD program is only possible by applying to an announced PhD position. Carefully follow the instructions for making your application as indicated in the announcement, and submit your documents before the deadline.
The deadlines for applications for PhD positions at the Department of Geological Sciences
January 15 and September 15: Available positions are announced.
February 15 and October 15: Deadline for applications.
Questions about applications should be directed to the director of studies for PhD programmes
Malin Kylander | +46 (0)8 674 78 98, malin.kylander@geo.su.se
Introductory/evening courses
Our evening courses are prepared with the lifelong learner in mind. A lifelong learner can be anyone, any age, male or female, student, working or not working.
If you want to learn more about an old interest, stimulate your mind or learn something new and interesting, one of our popular evening courses is the answer. Most of the courses also give you the opportunity to explore geological wonders around the world together with fellow lifelong learners during field trips.
Age of the Earth 7.5 credits
Climate Change – a geological perspective 7.5 credits Autumn term
Climate Change – An interdisciplinary Perspective (GG1019, lifelong learning, distance, 7.5 credits, ST, int.stu.)
Deserts 15 credits Spring term
Dinosaurs – their Evolution and Extinction (distance) 7.5 credits Autumn/Spring term
Discovery of the Elements 7.5 credits
Earthquakes (distance) 7.5 credits Autumn term
Livets utveckling 7.5 credits Spring term
The Sea 7.5 credits Autumn term
Volcanoes of the World 7.5 credits Spring term
Speciation and Extinctions in Time and Space 7.5 credits (in Swedish), Autumn term
Research Traineeship courses & Traineeship courses
Here you can see a list, in alphabetical order, of all our courses and programmes with course code, level, points, term, period and whether they go on-site or remotely.
Geological Sciences as a subject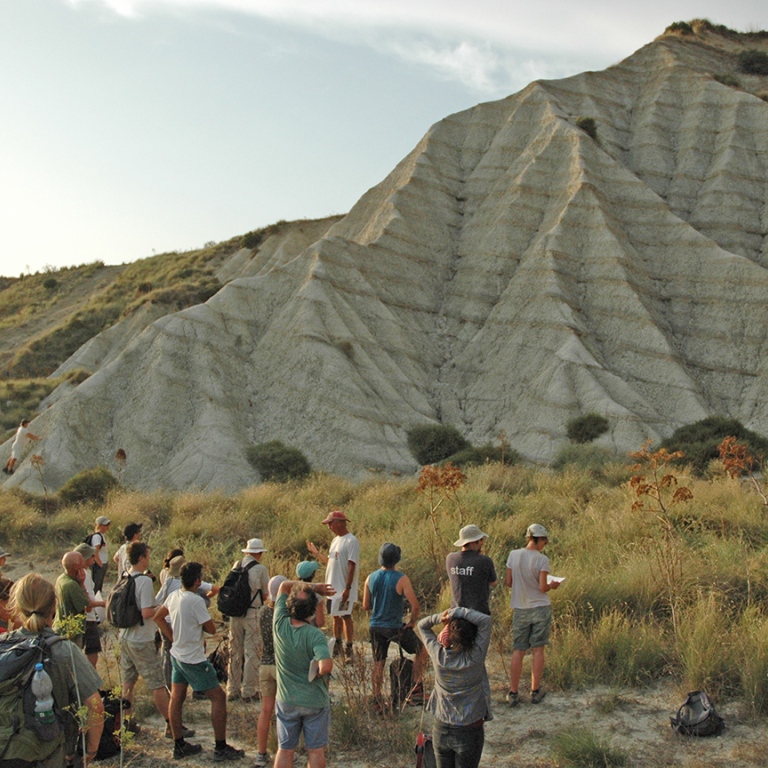 Geology, geochemistry and geophysics are subjects you need to touch and feel, which is why theoretical studies are mixed with practical moments like field studies, excursions in Sweden and abroad, and laboratory exercises.
Courses and programmes are offered both on the basic level (undergraduate level) and on the advanced level (Masters and PhD level). Some of the courses within these programmes can also be taken separately.
Research in Geological Sciences
Geological Sciences provide scientific knowledge and an understanding of planet Earth as an evolving system and thus include a wide range of disciplines. These involve studies of the planet's composition, the dynamic processes from core to crust, the distribution and cycling of chemical elements, the planet's history from its formation to the present day and the conditions and variations of the oceans and atmosphere.
Stockholm is a leading center of geochemical, geophysical and geological research in Sweden. Our research and teaching bring classical geology together with geochemistry and marine geology/geophysics. Research at the Department of Geological Sciences is strongly integrated with the interests of the Bolin Centre for Climate Research and the Stockholm University Baltic Sea Centre.
Read more about the research at the Department for Geological Sciences
Contact
Student Counsellor
Elisabeth Däcker, elisabeth.dacker@geo.su.se
Stockholm University's emergency number
is available 24 hours: +46 (0)8 16 22 16 or +46 (0)8 16 42 00.
Web administrator
webmaster@geo.su.se