During your studies
Are you currently studying at Stockholm University? Here we have compiled useful information for your studies and your student life.
The Academic Writing Service is the English-language service offered by Studie- och språkverkstaden (The Language and Study Centre). Our services are available free of charge to all students at Stockholm University.
Our mission is to ensure that students with diverse backgrounds and circumstances are able to complete their studies and achieve good results.
Our staff are experienced educators with special knowledge of general and academic English and Swedish, English and Swedish as other languages, teaching methods, information and communications technologies, and special-needs education.
Completed courses and study certificates
Is a student registration and grading web service where you can check reported grades and print official transcripts of your study results and a certificate of study registration.
Study certificate
The easiest way to obtain a study certificate is to create one yourself by logging in to your university account at Ladok.
Certificates can be created for studies at Stockholm University, and as a national study certificate that includes studies at several Swedish universities.
If you do not have access to your university account you can order a study certificate by contacting Infocenter. Please specify if you want an Official Transcript of Records and/or a Certificate of Registration, if it should be in Swedish and/or in English, and if you want it to be sent digitally and/or by regular post (if so, please specify to which address it should be sent).
Information about credit transfer of studies from a university abroad for students who have been admitted to, or completed, a course or programme at Stockholm University.
Plagiarism and regulations for disciplinary matters
As a student you must be conscientious about clearly accounting for the material used in the texts that are submitted for examination.
To use another person's expressions or ideas without stating the source is plagiarism. To translate and/or change some words in someone else's text and present it as your own is also a form of plagiarism.
Plagiarism is considered cheating and if discovered in an exam or paper, the exam or paper will be failed immediately and disciplinary measures may be taken.
Any student who is caught cheating or disrupting academic activities may be suspended from lectures and exams for a period of up to six months. The Vice Chancellor or the Disciplinary Council decide whether the student is to be subject to any disciplinary measures.
Note! Field reports that are seen to be very similar between students also constitutes cheating/copying and is not permitted. Ensure that your consider this when studying together.
You can find more information about regulations, guidelines and your rights and responsibilities as a student
Guidelines for Disciplinary Matters at Stockholm University
Your rights and responsibilities
How do I prevent plagiarism?
In academic work, it is necessary to cite sources. If someone else's text, whether published or not, is used without proper citation, it is an act of plagiarism. This violation of academic integrity has serious consequences. Suspected plagiarism will be reported to the university's disciplinary committee, which may lead to the suspension of the student.
It is the student's responsibility to learn to cite sources properly. However, information and support are available from the course instructor, study advisor and director of studies as well as from Student Services.
The following advice and recommendations may be helpful in the prevention of plagiarism.
Plagiarism refers to theft of the work of ot hers. Thus it includes not only ideas, words and sentence structures but also methods, figures, tables, data, drawings, photos, computer programs and the like. It is important to remember to cite all sources.
In addition to proper citation, quotation marks are necessary if the exact formulation of words is used from a source. Exact quotations are not common in scientific texts and, if used, are kept short. Direct translation from another language is still a direct quotation and requires quotation marks, proper citation of the original and citation of the translator. Translation plagiarism of this kind must be avoided.
Instead of using direct quotation, students can reformulate the main ideas from another writer's work in their own words if an accurate interpretation of the original is given along with proper citation. If several sentences from the original are summarized and paraphrased at the same time, the task becomes easier. An effective method for condens ing the text and reformulating the ideas begins with building an entirely different sentence structure and in addition avoids repetition of the original's non-technical words.
Careless or misleading citation also constitutes plagiarism. For example, an in-text citation is properly included and the reference is given in the bibliography but information from the same source occurs elsewhere in the paragraph without citation. This is plagiarism.
Another form of misrepresentation of sources involves a student's own work. If a student's text has been used to satisfy the requirements of one course, it should not be recycled in another course. The course leader should be consulted about any concerns or questions.
As experience and knowledge increases, writing and paraphrasing skills will improve. In addition, the work will contain more of the student's own ideas, explanations, evaluations and criticisms.
Example of plagiarism and correctly reformulated text:
Original text from Overduin et al. (2015): Penetrat ion of sulfate, serving as electron acceptor for anaerobic organic matter and methane oxidation, creates a capacity of the overlying unfrozen sediment column to oxidize released methane. Therefore, it is unlikely that thawing submarine permafrost is a subs tantial methane source for the overlying water column.
Plagiarized text (proper citation but failed paraphrase, nearly the same sentence structure, several repeated words and phrases): Penetrating sulfate, as electron acceptor for anaerobic organic matter and methane oxidation, creates the possibility for the overlying unfrozen sediment column to oxidize released methane; it is therefore not likely that thawing submarine permafrost supplies substantial methane to the overlying water column (Overduin et al. 2015).
Correctly reformulated text (proper citation, correct summarizing and paraphrase): Overduin et al. (2015) conclude that methane released by subsea permafrost thaw is anaerobically oxidized with sulfate as electron acceptor, likely resulting in negl igible supply of methane to the water column.
Reference
Overduin, P.P., Liebner, S., Knoblauch, C., Günther , F., Wetterich, S., Schirrmeister, L., Hubberten, H.-W., and M.N. Grigoriev (2015), Methane oxidation following submarine permafrost degradation: Measurements from a central Laptov Sea shelf borehole, J. Geophys. Res. Biogeosci. 120 , 965–978.
This text was written by Hildred Crill for the department's study handbook.
Stockholm Student Health Services offers students at Stockholm University, and a number of associated colleges in Stockholm, support during their study time. Any health-related problem can be discussed. Welcome to contact us!
Studying with a disability
Stockholm University provides special pedagogical support to students with documented long-term disabilities.
Here you can read more about common support measures and how to apply for support.
At the Geoscience building there are several elevators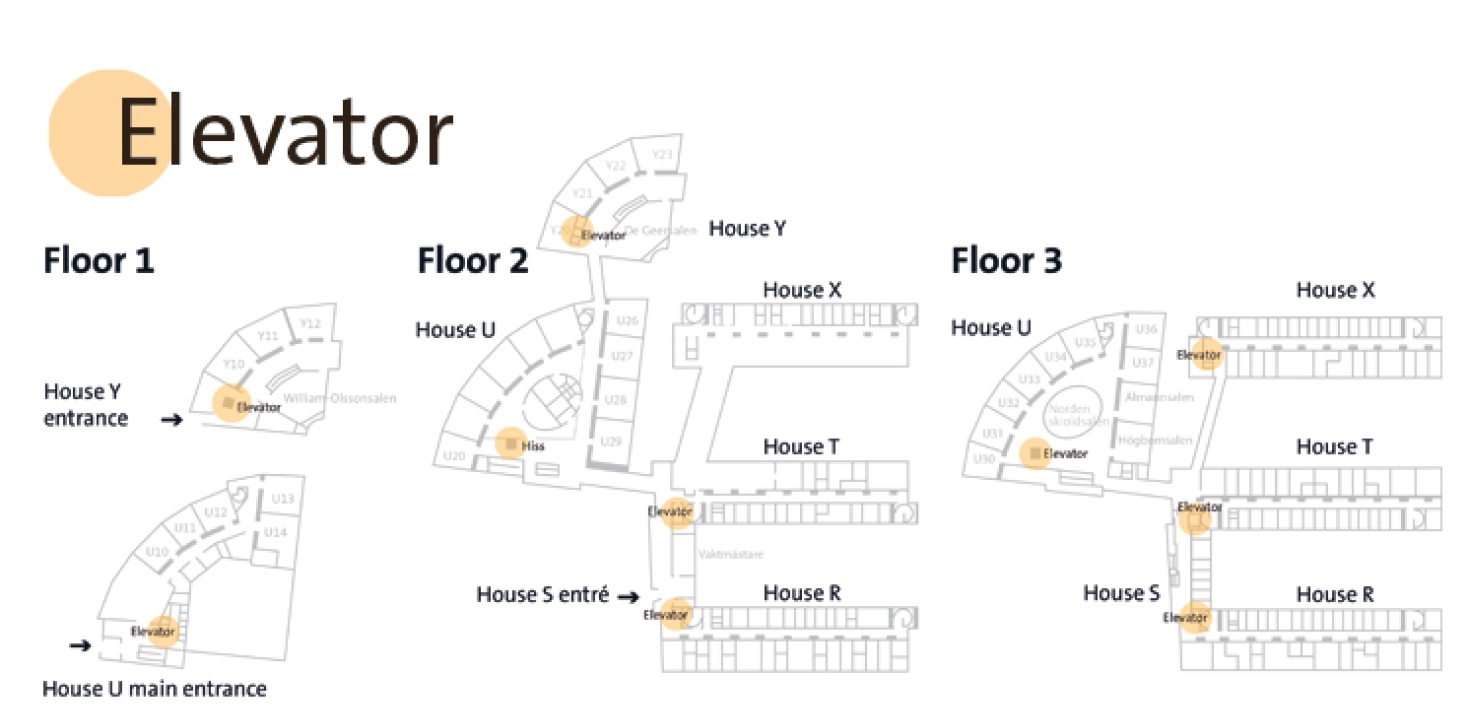 Study and career counselling
You are welcome to contact our student counsellor if you have questions related to specific courses or programmes given by their department.
Student counseller
Elisabeth Däcker | elisabeth.dacker@geo.su.se
General study and career counsellors
Stockholm's University general study and career counsellors are based in Studenthuset at the Frescati campus and can help you with information about studying at Stockholm University, such as programmes and courses available and eligibility requirements. When visiting our drop-in reception you will also have the opportunity to get individual guidance and support in the process of making a well-founded decision about your studies and career.
Go to study and career counselling

Careers
Here you can learn more about the services Stockholm University offer in terms of career events, innovation support and study and career counselling.
Your rights and responsibilities
Your rights as a student come in part from laws and regulations and in part from local precepts at Stockholm University.
Here you can find information on some of the most important rights and responsibilities that you have as a student.
Read more about your rights and responsibilities on Stockholm University's website
SCEG | Student Council of Environmental and Geo science
SCEG is a student council for Bachelor and Masterstudents who study environmental science or geosciences.

Student unions, faculty clubs and student union clubs
The student unions are membership organisations with the purpose to represent the common interests of students.
Their important assignment is to guarantee that students are able to influence their education, but they also have a major role in the social aspects of university life: from parliamentary decisions to course planning, to housing and coffee prices.
Stockholm University has two student unions, one large and one departmental, alongside Faculty Clubs and Student Union Clubs.
More information about student unions, faculty clubs and student union associations on Stockholm University's website

Stockholm University Student Union's (SUS)
Stockholm University Student Union (SUS) is the large student union. Their office and reception is based in Studenthuset at the Frescati campus. Read more about them on their website.
Gender and equality issues
Universities should offer all students a creative study and research environment and employees good working conditions.
Regardless of ethnicity, disability, gender, gender identity or expression, religion or other belief, sexual orientation or age, employees, students and applicants are processed and treated with respect and dignity. The University does not accept discrimination or harassment associated with any of the above categories or sexual harassment.
An equal and equitable educational and working environment for students and employees is also a prerequisite for everyone to perform their best.
The Department should prevent harassment associated with any of the grounds of discrimination, sexual harassment and have clear guidelines on how to act if harassment or sexual harassment present.

Plan for equal rights and opportunities at IGV (572 Kb)
If you are in any way discriminated against, insulted or harassed or if you found yourself in a situation where you have observed that some of the unwanted behavior occurred in connection with your studies at the Department of geological Sciences, contact: Elisabeth Däcker, elisabeth@geo.su.se (students at the undergraduate and graduate level) or Viktoria Arwinge, viktoria.arwinge@geo.su.se (research students).
Report an incident/eventuality
Has there been an accident at the department? Or has it been close to something serious happening? Is your case of an urgent nature, contact the university's security guard by calling 08-16 22 16 or 08-16 42 00. Then make a SAMIR report.
To make a SAMIR report, click on the following link that applies to your case (SAMIR – Report of safety deviation, Report to the police, Incident/work injury, or environmental threats). NOTE! You must use one of these forms to make a raport.
More information:
Security and crisis management at Stockholm University

Contact
Student Counsellor
Elisabeth Däcker, elisabeth.dacker@geo.su.se
Stockholm University's emergency number
is available 24 hours: +46 (0)8 16 22 16 or +46 (0)8 16 42 00.

Dind't find what you were looking for? Please contact our student counsellor Elisabeth Däcker, elisabeth.dacker@geo.su.se

Web administrator
webmaster@geo.su.se
Last updated: August 15, 2022
Source: Department of Geological Sciences