Kalle Edlund Westerling
Born in 1983. MA in Theatre Studies. Author of the book, La dolce vita: Trettio år med drag, about the history of the drag show group After Dark. Previously worked as a research assistant in a project examining the diva cult around Zarah Leander. Also has experience of practical theatre and performance, e.g. with the young queer theatre group KUNQ.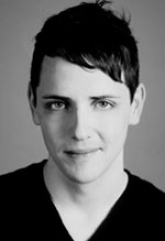 Email: kalle.westerling@teater.su.se
Research project
The current research project, "The Potential of Difference: Drag Show and the Aesthetics of Resistance" (working title for the thesis), revolves around how drag shows can express resistance against heteronormative power and norm structures with the help of different aesthetic strategies.
Prinsipal supervisor
Willmar Sauter, Department of Musicology and Performance Studies, Stockholm University
Supervisor
Tiina Rosenberg, Centre for Gender Studies, Lund University
Interests
Gender theory, queer theory, postcolonialism, poststructuralism, performativity, camp aesthetics, body, language, deconstruction, power.
Last updated: May 4, 2016
Page editor: Karin Walford
Source: Department of Culture and Aesthetics